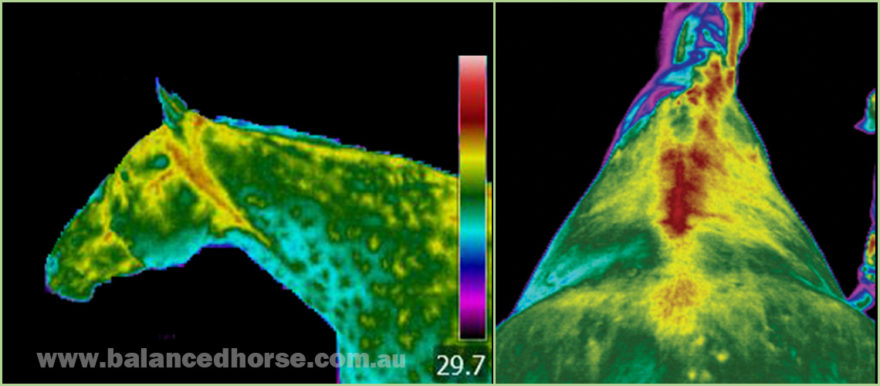 Eliminate the Guesswork
When you need to know more about problems that are hard to find, but aren't at the 'call the vet' stage, Infrared Thermal Imaging is a very useful tool.
Easy, quick and cost-effective, the images show changes in the surface temperature of your horse's body, revealing location of injury, degree of inflammation, stress areas secondary to injury, and the progress of healing. The images can also provide an early step towards veterinary diagnosis.
Jane offers a high value, comprehensive service, combining thermal imaging with her hands-on palpation skills, backed up with experience and knowledge of equine pathologies and saddle fit/back issues. You will receive a comprehensive report that outlines the findings on the images.
Once a problem is located, you can call your vet if required, or address your horse's problem with therapeutic bodywork.
Scroll down for a list of conditions visible in thermal images, and details of Jane's thermal imaging training. (Thermal imaging is also known as thermography or thermographic imaging.)
Talk about your horse – call Jane on 0447 672523 or send a message.
x
Thermal imaging can help you pinpoint the problem when:
Your horse is showing subtle or shifting lameness that is hard to locate.
Your horse is good one day, off the next.

You can't find a niggling issue and don't want to spend thousands on tests.

Your horse has more than one problem, or hasn't been 'quite right' for a while.
Your horse has been injured, and you need to monitor recovery.
You're not sure how well your saddle fits when your horse is in motion.
Talk about your horse – call Jane on 0447 672523 or send a message.
x
Problems that can be identified through thermal imaging include:
Tendon and ligament damage.
Young horse joint and growth plate issues, including physitis.
Shifting lameness.
Areas of back pain, including misalignment or kissing spines.
Muscle, fascia or nerve damage.
Monitoring the progress of arthritis and osteoarthritis.
Pressure related inflammation due to hoof imbalance.
Signs of recurrent laminitis.
Inflammation at recovery stages from injury.
Heat caused by saddle pressure.
Inflammation due to training stress.
Talk about your horse – Contact Jane on 0447 672523

Imaging horses in Armidale with visits to Tamworth
& Coffs Harbour, NSW, Australia
x
Training in Thermal Imaging
Note: Solid training in equine thermal imaging is essential, or all you'll have are some pretty pictures – pretty useless, that is.
For this reason, it's vital that the practitioner is trained in taking images of horses and in producing meaningful reports. It isn't enough to simply operate a camera – horses are biological subjects, and for this reason need a very specific set-up and preparation. Environmental conditions, camera calibration, positioning of the horse, and image interpretation all need to be done correctly, or results will be meaningless or, worse, misleading.
Jane has worked with FLIR thermographic imaging equipment while researching for her PhD at CSIRO, Australia, completed the Vetel Veterinary Thermal Imaging training headed by Tracy A. Turner, DVM (chair of the US committee responsible for the Veterinary Guidelines for Infrared Thermography), and completed the Infrared Thermography Center Level 1 (Blended Learning) course.