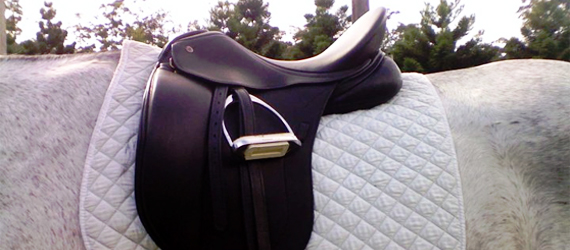 Fitting for Free Movement and Comfort
Poor saddle fit is one of the single biggest causes of restricted movement and injury. And where an injury already exists, poor fit will cut down your horse's ability to deal with it.
At this point, you will notice changes in your horse's behaviour and performance. Over time, lasting damage to the lumbosacral and sacroiliac connections become increasingly likely. Any structural weakness in your horse's body will become worse.
Enough of the scare stories. Whether you bought your saddle new, in person or online, or bought it from a friend, a saddle fit check will tell you whether there's a need to be concerned or not. You can arrange a stand-alone saddle fit check, or combine it with therapeutic bodywork to gain a full picture of your horse's back health.
Going one step further, you can have an advanced saddle fit check that includes thermal imaging. Imaging will tell you about inflammation, while Jane's  knowledge of saddle fit issues will tell you about the changes in your horse's body, compensation issues and – in some cases – existing pain. If a problem is found, therapeutic bodywork can help to set your horse right again.
Talk about your horse – call Jane on 0447 672523 or send a message.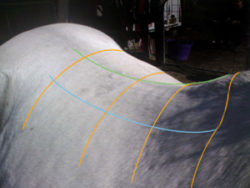 Jane has learned from two 'senior statesmen' of Australian saddlery. She was introduced to the practice of saddle fit by saddle maker and Master Saddler Peter Horobin of Peter Horobin Saddlery and has a lasting association with the respected Master Saddle Fitter, Graeme Aitkens of Aitkens Saddlery, Brisbane.
Graeme writes: "I admire Jane's experience and knowledge of the horse's anatomy and biomechanics, which is highly beneficial to good saddle fitting."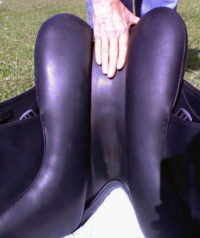 Talk about your horse – call Jane on 0447 672523 or send a message.
She has led workshops for horse owners in saddle fit and has written some widely read articles on issues around saddle fit in magazines and on this site, including:
Talk about your horse – Contact Jane on 0447 672523
Message

 Home Your Performance Horse Your Injured Horse Thermal Imaging

Checking saddles in Armidale with visits to Tamworth
& Coffs Harbour, NSW, Australia