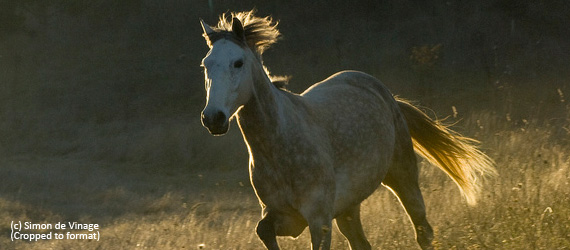 Guest Post: After worming with standard wormers, some horses become critically ill with colic. Some even die. This post by Ann Nyland explains why this can happen in horses that haven't received chemical wormers for a long time.

New guy in town: the encysted small strongyle
The old idea of worming in rotation lingers on from the early days, when it was first put forward in 1966. In the 1960s, the dangerous worm was the large strongyle (Strongylus vulgaris) and worming treatment in the 1980s and 1990s targeted this worm.
Yet today, the problem worm is the small strongyle (cyathostome).
Rotation is no longer advocated by equine parasitologists. At any rate, no amount of rotating will help against encysted cyathostomes.
Unfortunately, most advice given today is, sad to say, still aimed at the old way designed to eradicate the large strongyle – even though this worm is no longer the biggest problem.
Too much information – and it's often wrong
Misinformation about equine worms is all over the net, from natural therapists to chemical companies. Horses have died because of this misinformation.
Don't make the mistake of thinking that if something is said about a product, even on companies' advertising or seminars, it must be true.
It isn't. On the contrary, It's common to find statements on ads about wormers such as:
"100% effective against all worms of horses and bots."
"(Non-moxidectin, Non-fenbendazole product) safely and effectively rids horses of all major internal parasites, including tapeworms, in a single dose."
"(Chemical) eliminates all common horse worms and bots."
"(Non moxidectin, Non fenbendazole product) has the capacity to treat all common types of parasitic worms (including tapeworms) and bots."
"(Non moxidectin, Non fenbendazole product) has the best combined efficacy and the broadest spectrum of activity of any wormer."
"(Product) completely protects young horses from ascarids, as well as all other worms."
All of the above statements are misleading. There is no one product on the market that can be 100% effective against all worms.
In fact, only moxidectin or a single dose of fenbendazole for five consecutive days are effective against this encysted parasite.

So, moxidectin in Equest / Quest / Farnam ComboCare, and fenbendazole in Panacur 100 (or WSB Fenbendazole in Australia), will do the job. If in the US, you need to double the dose of WSB Fenbendazole.

Exactly why are encysted small strongyles so deadly?
Firstly, only two chemicals of all the available wormers out there can kill them. No other wormers will have any effect whatsoever.
What's more, these encysted worms can stay encysted for years. (Encysted means that it is enclosed in a cyst in your horse's intestine, after the larvae have burrowed into the intestinal wall.)
Now, encysted worms are normal part of the small strongyles' life cycle. It's a normal stage for them. When they finally develop into 4th stage larvae, they emerge from the cyst and enter the large colon. They then become adults, and the cycle starts again.
Now we come to the problem with them: the process of emerging. If there's a huge number of them, the process of emerging may kill a horse. Even if there are fewer, but still a lot, the horse is likely get colic and/or scour and/or get edema. Or, they may be found dead in the paddock. In Australia, the owner usually assumes it is a snakebite.
The reason for this is that when they emerge, they release toxins from accumulated larval waste products.
What happens if a different wormer is used instead?
When a horse who has a lot of encysted small strongyles is wormed with a standard wormer (in other words, a wormer that isn't moxidectin or fenbendazole based), the small strongyles encysted in the lumen (lining) of the intestine aren't affected. Instead, the standard wormer kills the worms that are not encysted.
These worms then die and are passed out of the horse in manure.
This isn't too bad if the horse doesn't have many of them. However, if the horse has a lot, this is what happens next.
Because a lot of small strongyles have been killed in one go, those nasty encysted small strongyles, who have been sitting safety inside the horse untouched by the standard wormer, are given the signal to emerge all at once. They do so in big numbers, ready to replace the ones that the standard wormer has killed.
In emerging, they come right through the wall of the horse's large intestine. They bring with them a large amount of toxins. This is what can kill your horse or give it colic.
If instead you worm with moxidectin (Equest) or a five-day dose of fenbendazole (Panacur 100 or WSD Fenbendazole), not only are the non-encysted adult small strongyles killed, but you will also kill a whole bunch of the encysted ones who were waiting to replace them. There will be no mass emergence of strongyles and no release of toxins.
These wormers are the only safe ones to use on horses with a suspected heavy worm burden.
To recap:

1) Moxidectin and fenbendazole wormers are the only ones that can kill the encysted small strongyles.

2) With other wormers, horses with a heavy worm burden can get sick or die when the encysted strongyles, which haven't been killed, emerge through the colon wall to replace the non-encysted strongyles that have been killed.
This process is called Larval Cyathostomosis and it is damaging to your horse. The symptoms are colic, weight loss, diarrhea and/or subcutaneous odema. In the worst cases, the outcome is death.
How can you tell if your horse has encysted small strongyles?
Answer: you can't. Horses can look very well and still be full of encysted worms.
Just imagine that encysted worms have been sitting there, possibly for up to three years. You can be worming regularly with standard wormers and they're not affected in the slightest. What's more, your horse can be looking and even performing very well.
Your standard wormer does nothing against the encysted small strongyles, so just ignore advertising claims that these wormers 'kill all worms'.
If you have never given moxidectin, or fenbendazole for five consecutive days, well, that could be a cause for concern, depending on your geographical location and your horse's individual circumstances.
Of course, some horses are more prone to worm infestation than others – the old saying "Some of the horses have most of the worms" is correct. In any group of horses, 20% will carry 80% of the worm burden. Many healthy horses have an effective immune response to worms, which keeps the numbers low.
That is, until the horse becomes sick, is badly fed or gets a large number of worms.
But don't encysted small strongyles show up in fecals?
Now here's a problem: encysted small strongyles don't lay eggs.
Repeat: they do not lay eggs.
If you have an egg count done on your horse's manure, it will not show how badly your horse is infested with encysted small strongyles. This means the egg count could be zero, but your horse could still be infested with these worms. It's simply impossible for fecals to show how many encysted small strongyles are encysted within your horse's intestine.
Your horse may not even look 'poor'. In fact, your horse could appear to be in glowing health and still have a heavy worm infestation. Fat, shiny horses have died from worms. Don't be fooled into thinking a horse is not heavily infested with these worms just by appearance.
Encysted small strongyles can't be seen by the naked eye. You won't see them, ever.
So, if your horse has ever had colic, has scoured or has been 'off' after worming, consider treating for encysted strongyles.
Here's how to put together a program of treatment for your horse with neck threadworms (and maybe the Itch) that includes treatment for encysted small strongyles as well as the ivermectin treatment – How to Fight the Big Fight Against Neck Threadworms
Using moxidectin or fenbendazole for encysted small strongyles
Equest (moxidectin) is perfectly safe for horses, despite the scare-mongering and other such utter nonsense to be found on the net. Trials have been conducted where foals were highly overdosed (details and references are in my book – see below.)
If you have minis or small ponies and don't have an accurate knowledge of their weight, you can use Panacur 100 (fenbendazole) for five consecutive days.
I immediately worm all rescue horses arriving here with the full dose of Equest for their weight, and then follow up at two weeks, and then again two weeks later. I don't wait for the horse to gain weight until I worm – that road is paved with dead horses. And nor do I give them half a dose – again, that is a serious mistake.
Ann Nyland lives in New South Wales, Australia. With a PhD in equine physiology, she has published several books on worming for horses.
NOTE: THE AUTHOR, A GUEST POSTER ON THIS SITE, IS UNABLE TO RESPOND TO READER'S INDIVIDUAL QUERIES ABOUT WORMING YOUR HORSES.