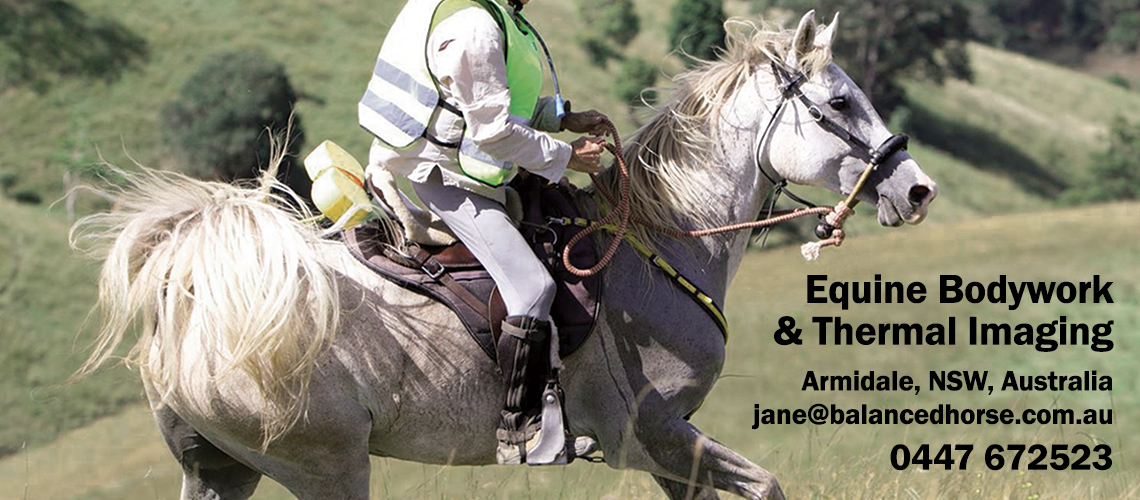 google
For Horses with Thinking Owners
Professional Thermal Imaging
Infrared thermal imaging helps you to pinpoint the problem, when you can't quite put your finger on the location or cause of injuries and physical restriction.
This is thermal imaging you can rely on, performed by a trained practitioner with the skills and knowledge to guide you through the results.
Talk about your horse – call Jane on 0447 672523

or

send a message.
Expert Therapeutic Bodywork
This therapeutic muscle and joint work helps your injured horse to recover, and your performance horse to excel in your chosen discipline. Can be combined with a full horse assessments for physical problems, saddle fit checks or thermal imaging, from an insured professional you can trust.
Jane has many long-term loyal clients due to her 15 years' direct experience, her wealth of professional training, and the knowledge arising from her current PhD research.
Read more about bodywork for injured horses, for performance horses, and Jane's bodywork approach.

Talk about your horse – call Jane on 0447 6725

23

or

send a message.
x
Saddle Fit Checks for Back Health
Gain peace of mind that your saddle isn't hurting or restricting your horse… Request a thorough assessment for optimal saddle fit, from a practitioner with combined knowledge of saddle fit, back health and related physical issues.
Advanced assessments with thermal imaging are also available.
Talk about your horse – Contact Jane on 0447 672523

Helping horses in Armidale, with visits to Tamworth
& Coffs Harbour, NSW, Australia