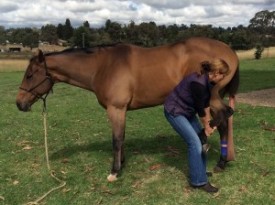 I started writing The Horse's Back in 2012 to make myself feel better about the issues I was seeing. Behind it all is a driving wish to effect some change that will ultimately benefit horses' health, comfort and well being as they play their meaningful role in our lives.
For the past 12 years, I've offered bodywork for horses, providing a therapeutic approach to muscular release and structural realignment. I am based in Armidale, NSW, Australia, where I run my practice Balanced Horse Services.
Seeing so many problems deriving from poor tack selection, I've learned more about saddle fit from the esteemed Peter Horobin, business partner to Jochen Schleese, and with the highly regarded Graeme Aitkens of Aitkens Saddlery, Brisbane. I combine this understanding with reading patterns of tension, misalignment and pain in the horse's body to determine the true nature of physical issues.
At present, I'm working towards a PhD at the University of New England, Australia, looking at the developmental issues experienced by foals born prematurely. It's a huge subject area.
Here's my 2011 video showing some interesting cases. (It's funny, I'm reassessing a few of these as I watch them today…)

 email: jane@thehorsesback.com